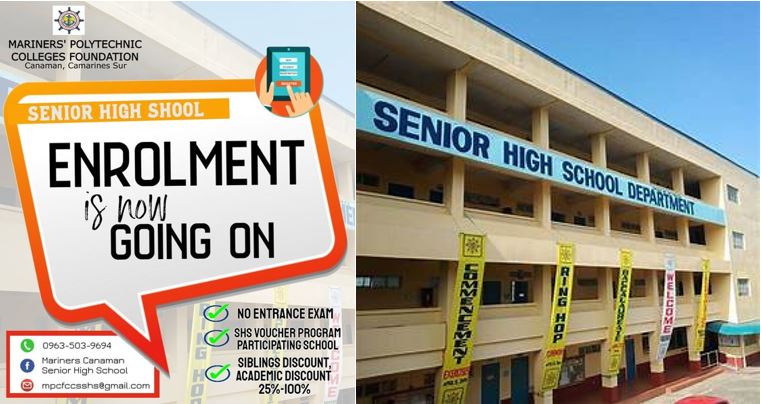 Canaman, Camarines Sur – The Senior High School Department of Mariners Polytechnic Colleges Foundation (MPCF) this province, announced the on-going enrollment for academic year 2021-2022.
Amidst the COVID-19 pandemic, the school has opened the on-line enrollment which makes it more convenient and safer for students and parents as they do not have to come physically to the school campus to achieve their desired enrollment transaction.
Guidance and Admission Office Director Dakila Capistrano confirmed that enrollment is now going on for incoming Grade 11 students and transferees.
The enrollees can choose from the following strands: the Pre-Baccalaureate Maritime Science, Technology, Engineering and Mathematics, TVL-Home Economics, Accountancy, Business and Management,
In the fields of Humanities and Social Sciences, we offer the following: ( 1.) Learning Management System, (2.) Student Support Programs, (3.) Scholarships, and (4.) Flexible Learning Schedule.
For prospective enrollees, this is an invitation to be a part of the FIRST and ONLY Maritime Institution in the Bicol Region with LEVEL 1 ACCREDITATION STATUS by the PACUCOA for the BS Marine Transportation and BS Marine Engineering Baccalaureate programs.
For interested parties, you may send your message thru the school's FB Page or you may call cp# 09635039694 for assistance.
Join Now and be a Bikolanong Marinero