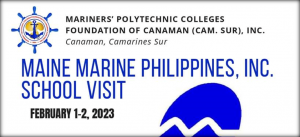 Canaman, Camarines Sur – Representatives of the Japanese shipping firm Maine Marine Philippines (MMPI) paid a visit to the Mariners Polytechnic Colleges Foundation (MPCF) schools in Canaman, Camarines Sur and Legazpi City, Albay on February 1 and 2, this year.
The call was initiated so that the shipping company may have a first-hand view of the physical status of the schools and evaluate the existing facilities used in the training of maritime students.
Also included in their mission was to further enhance the cooperative venture when it comes to the granting of scholarship and the giving of priority job placements to qualified graduates which were started by both parties more than a decade ago.
A short program was held at the MPCF's Camarines Sur campus in which messages from the Chairman of the Board of Trustees Evita Jimenez-Tuazon, President Dr. Marilissa Jimenez-Ampuan and Executive Vice president Dr. Gabriel Lazaro Jimenez were delivered while the guests, led by Maine Marine Philippines, Inc. Captain Keita Okajima listened.
Aside from Captain Okajima, included in the visiting MMPI executives were Mr. Takfumi Tahara, Mr. Masayuki Minackuchi, Mr. Hideki Murakami, and Chief Engineer Arnel Gonzalez.
Other highlights of the visit comprise the presentation of the Institutional Profile  by the Student Affairs and Sevices Department (SAS) Director Dakila Capistrano and the Culinary Arts Profile which was presented by the TECVOC Program Chair Mr. Leo Abejo.
The visitors had a short meeting with the MMPI Scholars to update them of recent developments in the company and the partnership with MPCF.
The first day of the visit (February 1, 2023) was spent at Mariners Polytechnic Colleges Foundation (MPCF) of Legazpi City, Albay after which, they proceeded to MPCF in Canaman, Camarines Sur.
After the short program at the Canaman campus, a tour of the facilities, equipment and laboratories ensued in which the visitors had a first-hand view of what the school offers to the maritime cadets in their training.
They visited the Full Mission Bridge Simulator, the ECDIS Simulator, Engine Room Simulator, Pneumatic and Hydraulic Trainer, the Main Engine Laboratory, the Dormitories and Classrooms.