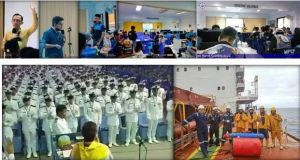 (Left to Right) VPAA Dr. Edgar Despi, VPESA Karlo Alfred Ampuan and Alumni Coordinator Leo Panganiban address the members of the MPCF Alumni Association during the December 2022 Alumni Gathering. The students in white uniform  transform themselves from being Maritime Cadets (lower left picture) to Professional Seafarers (lower right picture).
Alumni Association gears for Grand Homecoming in March 2023
The Mariners Polytechnic Colleges Foundation (MPCF) Alumni Association of Canaman, Camarines Sur is now in the thick of preparation for the activity which will coincide with the Foundation Anniversary celebration of the school.
The event is a sequel to the Alumni Gathering which was held in December 2022. In an interview with Alumni Coordinator LEO PANGANIBAN, he said that the members of the Association will participate in the motorcade in the morning of March 4, 2023, with a program for the Anniversary Celebration which will follow at the activity center of one of the malls in Naga City.
After the luncheon on the same day, a separate affair will be held at the MPCF Canaman Campus for the Association members. The different attending batches will be introduced and their presence will be acknowledged.
The election of the new set of officers will be conducted to be followed by an Oath Taking Ceremony of the newly elected officers.  The details of this segment will be led by Bachelor of Science in Marine Transportation (BSMT) Program Chair CAPT. EPEGENIO CLERIGO, JR. and Bachelor of Science in Marine Engineering (BSMarE) Program Chair ENGR. JOHN ARNANTE.
An awarding ceremony will be one of the highlights as recognition of the outstanding performance of some members of the Association and their valuable contribution to the organization and the school in the pursuit for excellence in maritime education, will be given.
The Awards Committee is chaired by CAPT. ELDRAN GIANAN and Co-chaired by SECOND ENGINEER JEFFERSON ROY and under the supervision of Vice President for Academic Affairs DR. EDGAR DESPI and Director for Accreditation ENGR. ARMELFA OLEA.
The Association is optimistic on the impressive attendance of Alumni members who are on vacation from their Seafaring profession and everyone who can make it to contribute to the success of the event.