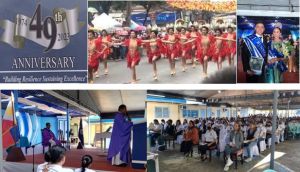 The colorful activities at the 49th Foundation Anniversary of the Mariners School was started with a Thanksgiving Mass held at the MPC-Naga City campus.
Mariners School commemorates 49th Foundation Anniversary; focuses on building resilience and sustaining excellence
The Mariners Polytechnic Colleges (MPC) marked its 49th Foundation Anniversary with colorful activities participated by the students, faculty & staff, members of the Alumni Association, the school administration and other stakeholders.
It can be recalled that the school started as the Mariners Polytechnic Colleges (MPC) in Naga City in which about a decade later, it had its offspring's – the Maritime Schools of Mariners Polytechnic Colleges Foundation (MPCF) in Baras, Canaman, Camarines Sur and the Mariners Polytechnic Colleges Foundation (MPCF) in Legazpi City, Albay.
It was started in Naga City by the Founder, the late Commodore Jaime C. Jimenez in 1974 with 38 students, renting buildings for its initial classrooms and subsequently the nipa shacks as its place of operation.
Now, with the three campuses in Naga & Legazpi City and in Canaman, Camarines Sur, the Institution has an enrollment of almost 8,000 students all over the Bicol Region as it continues to serve the Bicolano Youth.
The three-day affair was started (March 2) with the celebration of the Holy Eucharist (Mass) at the MPC-Naga campus which was followed by the parade around the city's main thoroughfares. It was followed by the formal opening/cutting of ceremonial ribbon of exhibit of memorabilia of the Founders (Commodore Jaime C. Jimenez & Madame Eliza Lazaro Jimenez) since the school was founded.
Other activities that made the event memorable include the skills Olympics, games and the search for Mr. & Ms. Foundation, participated by students from MPC-Naga and MPCF-Camarines Sur campuses which was done on the second day (March 3).
The commemoration was culminated on the third day (March 4) with a parade led by the Mariners Band and Majorettes from the MPC-Naga campus to the Robinson's Place where the succeeding activities were held. A program ensued in the morning and followed by the occasion of the Alumni Association in the afternoon.
This year's event adopted the theme "Mariners @49: Building resilience, Sustaining Excellence".