MPCF CANAMAN JOINS BISCAST PRESIDENT'S DAY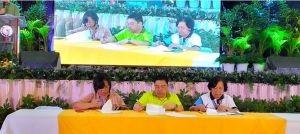 The Mariners' Polytechnic Colleges Foundation of Canaman (Cam. Sur) Inc. joined BISCAST's guests and stakeholders in celebrating the 53rd birthday of Dr. Alex H. Navarroza, its President on June 29, 2023 at the LRV Student Pavilion.  One of the events featured in this occasion was the "President's Day: Heralding BISCAST Bayahihan Spirit" which highlighted the MOA/MOU Signing Ceremony with BISCAST partners in development.
Understanding (MOU) with MPCF Canaman referred to as the "Project Proponent" and BISCAST as the "Partner HEI" is for the Research, Development and Extension (RDE) program titled, "Developing Social Enterprises for Economic Resilience of Disaster Survivors in Bicol." Through this program, these institutions will help particularly the disaster survivors in Bicol bounce back better by engaging them in development of social enterprises for themselves and for other needy clients.
Dr. Marilissa J. Ampuan, President and Dr. Cely S. Binoya, Consultant of MPCF Canaman were represented by Engr. Armelfa M. Olea, Vice President for Administration, and Ms. Patria B. Boneo Directod for R&DO of MPCF Canaman in the said occasion.