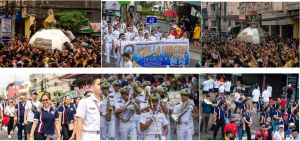 The Mariners Polytechnic Colleges Foundation (MPCF) of Canaman, Camarines Sur's  band, students, faculty and staff join the Traslacion Procession on September 8, 2023 – one of the major religious acivities of the Penafrancia Festival.  This event was not celebrated in the past three years due to the COVID-19 pandemic.
MPCF-Camarines Sur joins 2023 Penafrancia Festival's  Traslacion Procession
The Mariners Polytechnic Colleges Foundation (MPCF) of Canaman, Camarines Sur joined one of the major activities of the Penafrancia Festival, the Traslacion Procession in Naga City.
Traditionally, this religious event is commemorated every second Friday of September in which the image of Our Lady of Penafrancia, the Patroness of Bicolandia and El Divino Rostro are transferred from the Penafrancia Shrine at Bgy. San Felipe to the Naga Metropolitan Cathedral in the Heart of the City where a nine-day novenary to honor INA is conducted by the devotees.
The hair-raising religious event portrays the deep devotion of the devotees who come from the different parts of the Bicol Region, the nation and some who hail from outside the Philippines to become part of the celebration.
It has also been a school tradition that the institution sends representatives to participate in the event.  Aside from the personnel joining the procession, the Mariners Band provides appropriate music while it stays in one strategic place near the Cathedral to add solemnity and color to the occasion.
A similar group from the sister school, the Mariners Polytechnic Colleges, Inc. (MPCI) of Naga City also joined the procession.
Th Joint Operation Center (JOC) of the Festival confirmed that more 950,000 people attended the event, confirming its significance as a major religious activity of the Penafrancia Fiesta.