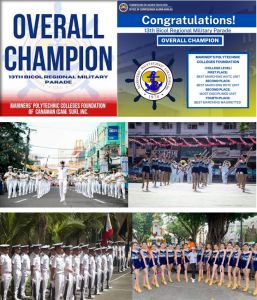 The Mariners' Polytechnic Colleges Foundation's Band, Majorettes and Naval ROTC Cadets display their winning form before bagging the "Over-All Championship" award in the 13th Peñafrancia Bicol Regional Military Parade Competition.
Mariners schools bag "Over-All Championship" award in Peñafrancia Military Parade Competiton
The event coincided with the celebration of the 2023 Peñafrancia Festival in which the activity was one of the highlights of the Fiesta honoring the Patroness of Bicolandia.
Included in the winning categories which catapulted the Mariners institution to bag the College Over-All championship prize are the following:
First Place: BEST MARCHING WATC UNIT
Second Place: BEST MARCHING ROTC UNIT
Second Place: BEST DISCIPLINED UNIT
Fourth Place: BEST MARCHING MAJORETTES.
The sum total of the points garnered by the schools' participating units placed the Institution in the forefront to become the "OVER-ALL CHAMPION".
During the Monday "Morning Colors" (Flag Raising Cermony) held at the MPCF's JCJ Gymnasium, school President Dr. Marilissa J. Ampuan formally acknowledged this achievement and congratulated the members of the contingents, their trainers and all concerned in the Mariners Community, for a job well done.