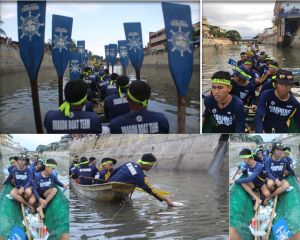 The members of the Mariners Polytechnic Colleges Foundation's (MPCF) Dragon Boat Team joins the school's contingent in the cooperative effort of organizations in the CLEAN-UP DRIVE of the Naga City River before the 2023 Penafrancia Festival in September. This river is utilized to transfer the image of Our Lady of Penafrancia, the Patroness of Bicolandia from the Naga Metropolitan Cathedral back to the Basilica Minore in Bgy. Balatas.
MPCF Dragon Boat Team, students, faculty & staff join the Naga River Penafrancia Festival clean-up drive
The members of the community of the Mariners Polytechnic Colleges Foundtation (MPCF) of Canaman, Camarines Sur joined the clean-up drive aimed to get rid of garbage from the Naga City River to prepare the way for the traditional 'Fluvial Procession' of the 2023 Penafrancia Festival.
The clean-up activity has been participated by the institution in the previous days but was discontinued in the past three years due to the COVID-19 pandemic.
Meanwhile, this Procession, being one of the biggest highlights of the religious activity prides itself with more than a million attendees, mostly devotees of the Patroness of Bicolandia.
The school's involvement in the Festival's various events underscores its being part of the Bicol Region's culture with the Penafrancia Fiesta as the rallying point for the solidarity of Bicolanos in this part of the country.
The Clean-Up Drive carries a message in the advocacy of 'discipline' from the campus in which people are encourged in the proper disposal of garbage so that cleanliness is maintained in the environment especially in the sanitation of the Naga River which is located right at the heart of the city.