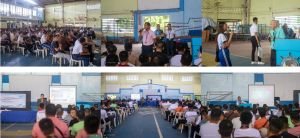 The attendees to the Anchors' Club Orientation Seminar for new BSMT students listen to the event's speakers who expounded on important and relevant matters vital to their stint as learners in the course they are taking.
Anchors' Club conducts Orientation Seminar for new BSMT students
Canaman, Camarines Sur – The Anchors' Club of the Bachelor of Science in Marine Transportation (BSMT) department of Mariners Polytechnic Colleges Foundation (MPCF) this province, conducted a Departmental Orientation Seminar for the new BSMT students on October 18, 2023.
It aimed at the learners' familiarization with the course they are taking-up and the corresponding activities and responsibilities incumbent on them.
The activity has a design to empower first year BSMT students in specific areas such as attitude, discipline, life goals and career motivation.
The speakers discussed the different subject matters with the students having the opportunity to interact with the resource persons.
Included in the battery of speakers were Capt. Jay-Ar P. Oleon, Capt. Hilario C. Bolina, Student Affairs Services Director Dakila Capistrano and Dean of Maritime Studies Capt. Efren Flora.
The event adopted the theme, 'Anchoring our future while navigating together'.
"It was an opportunity for the freshmen to further appreciate their stint as students taking-up the course of Bachelor of Arts in Marine Transportation, to learn more on what is in store for them and the appropriate response on their part especially on the expectation the school wants to get from them", said Ian Jeremie S. Oraojo, the Anchors' Club Skipper.